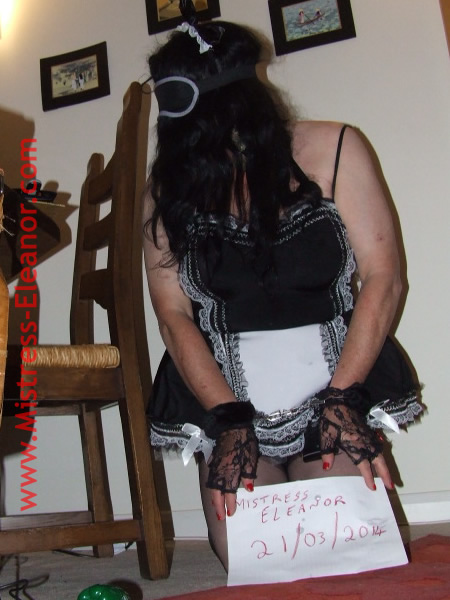 Mistress puts me into bondage.
She gags me, a ring gag, blindfolds me.
My ankles are cuffed, and my wrists.
She puts me onto my knees, and pushes my face into the carpet.
I kneel, and she pushes a butt plug inside me. Then she turns it on.
"Kneel tiffy. And don't move."
I kneel, and I hear a click. Even with my mask on I can sense the light has gone out.
It goes quiet, and I'm not sure if she's still in the room.
I move my weight slightly.
"Don't move tiffy. I didn't say you could move."
She's in the room with me.
i stay as still as I can.
i hear her draw on a cigarette- and then the smoke hits me in the centre of the ring gag.
i cough, and she laughs.
"you are pathetic aren't you tiffany? Look at your tiny cock. I've had to buy a CB6000s for you. The "s" stands for short. You tiny cocked wanker."
She blows smoke into my mouth again, and I tremble.
i hear her stand up, and walk round me.
"Don't fidget tiffy, or I'll keep you like this all night. Wanker.
"Do you think it will improve when I let you stand up? Because it won't. As long as you are here with me you will be receiving no comfort, just humiliation and discomfort. Because you are nothing but a cross-dressing sissy with a tiny cock."
The butt plug makes my arse feel raw.
Drool is pouring from my mouth because of the ring gag.
My knees hurt, my back aches.
But it doesn't let up.
She blows smoke in my mouth, whispers insults in my ear.
And I realise that the next 24 hours are going to be a constant torment.
It goes on, apparently for ever…..
"Stand up tiffy." I struggle up, and she removes my mask.
"Time for dinner," she grins……