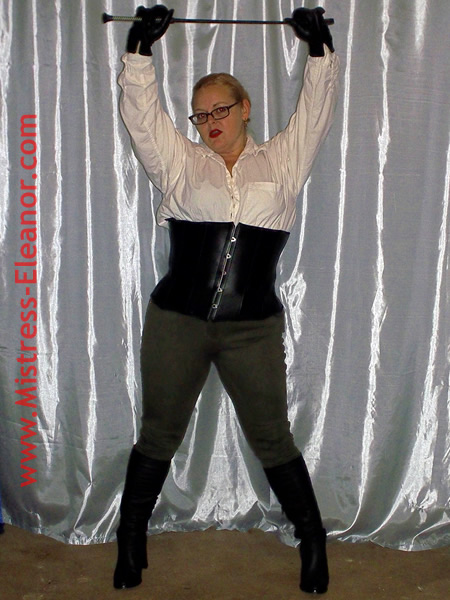 he kneels naked on all fours, close to My heels. I stand behind him and rest My riding boot on his buttock. I put on his harness and saddle, pushing My heel deep into his flesh as I lean across him to do so. I stand around the back of him, armed with his tailed butt plug. I complete My pet and toy with a horse head hood. I stand astride him with My crop ready, and send one lash upon his buttocks as a warning to who is in charge.
I sit on his back, and lean back his head, and lift up My feet to rest on his buttocks. Both heels dig into his flesh, marking his skin with 2 red arcs from My Heels.
I bring down the crop as I warn him to "Get ready to be ridden."
I sit on his back, and hold onto the reigns secured to his harness. he carries Me on his back, holding his butt plug in tight, nipple clamps pulling with each forward movement of his front limbs.
I command him to "Stop." and I climb off. I grab him by the harness and lead him across the room, close to My heels. I lead him to My throne, and have him kneel in front of it, facing to the side.
I sit on My throne and rest My boots on his back.
"Good boy." I lean across to rub his head with leather gloved fingers. A good obedient pony for riding, sitting on and petting. I nudge his tail with My boot. Yes, it's still secure, and should remain that way.