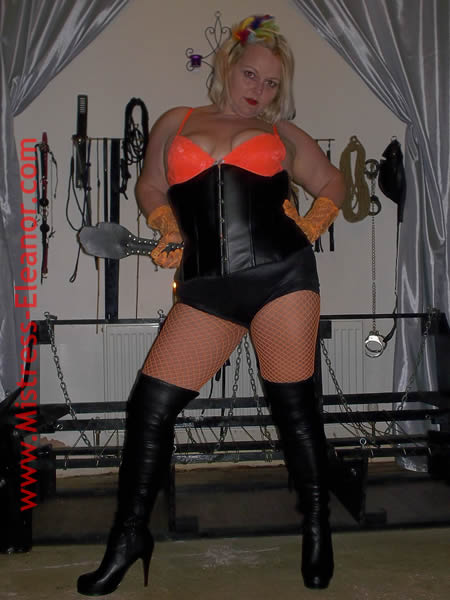 Kneel down low at My stiletto heels. Head to the ground, knees wide apart.
I watch his naked form fidget and squirm, lower than My boots. With My leather paddle, I spank his buttocks, and warn him to be neat and tidy, still and quiet. Seen and not heard if he is obedient, not seen or heard if he is not. I tell him to "Kiss My leather boots. Let Me hear only the sound of the kisses. I want to hear no other sound." After several moments, he lets out a sigh. Be it pleasure or for some other reason, I do not care. I said no sound.
I bring down the paddle, and it slaps into his skin. "Kisses only!" And I bring it down again.
I tell him to kiss My boots, all the way up. Up past My knee, up to My thigh. "Keep your hands to the ground." I want to see you stretch up. I want to see the effort of worship. Only with your lips, "Keep your eyes to the ground."
I lift up My boot, and push the sole into his face. "Now suck the heel, like the dirty little sucking slut that you are."
I force My heel deeper into his mouth, making him feel the full 6 inches slide across his tongue. A little gag, that he manages to hold back. I hold up My spanker, ready for punishment. I want to hear no more gagging, and vomit must be avoided, or re-consumed.
"Stop!" And I push his head back to the ground with My right boot. "Kiss My Boot" As he kisses My left boot, I kneel on his shoulder with My right knee, lean over with My paddle, and lay down a blow for every kiss.