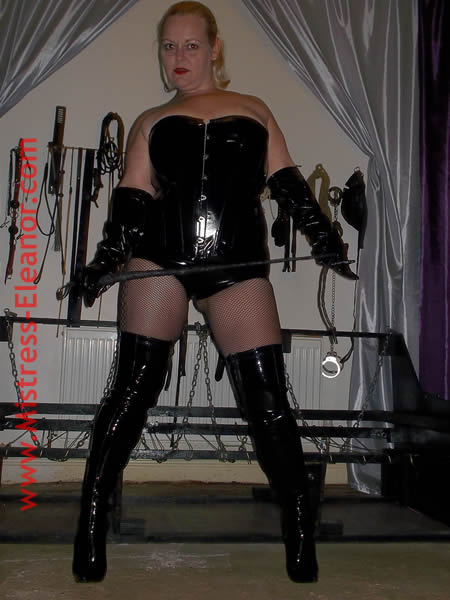 Fully dressed in PVC, including thigh high boots with stiletto heels I stand over him with My whip ready. I lift up My leg, and push My heel into his thigh. I feel him wince just a little, but he remains silent. I slowly walk around, the only sound is the steady click of My heels on the hard floor. Using My whip, I pull him by the neck until he is lying flat on his back. I lift My stiletto heels foot over his bare chest so that I am standing over him, My heels pinning his wrists flat to the floor. I rest one foot on his chest, and see the indentation where My heel rests. The dent deepens, as I transfer My weight, and up I go, standing one footed onto his torso. I order that he gives Me his hands, and I steady Myself, before pushing My other heel into his nipple. I move My foot around to change the pressure, which causes him to let out a little gasp. I whip him with My long leather bull whip between his legs, as a warning to remain quiet. Failure to do so will result in a ball gag being used.
I Lift My foot off his nipple and push My foot into his face, the sole of My boot covers is nose, and I push My heel into his mouth. After some kissing of My heels, I move the foot backwards, and step off him. I walk down to his feet, and push his legs apart with My boots. I tease his balls with the pointed toe of My boot, and he gives a little shudder as he anticipates My next move.
I stand on his balls, pinning the sack flat to the floor with My long spike heel. I stand on with full weight as I lift Myself back onto body, using it as a platform. I stand down, his body under My legs, and order him to "Roll Over." I watch him squirm beneath Me as he shifts position according to My orders. I whip him 3 times on the buttocks for moving, then step on. Using My whip, I pull his head back, so I can see his facial expressions as he reacts to Me walking up and down his bare back. The marks from My heels growing deeper and redder with every step.