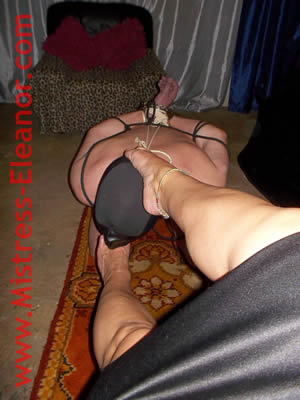 The contract is signed. he is Mine. I make him undress and fold his clothes neatly. he kneels naked in front of Me, his little
maggot cock
starting to grow. This will not do. I put on a hood so he won't get distracted from his training. I bind his wrists together, and force his head down to the floor. I take a firm grip of My triple leather stinger, and spank him firmly across the buttocks. I can see his full testicles quiver, and I know that his penis is not as it should be.
I drag his body upright, and stand before him. Taking a black rope, I begin to tie his cock and balls. I take the rope over his shoulders to tie his wrists & arms, then his ankles, before finally, tying his still semi erect penis and throbbing balls with the last of the rope. "Head down!" With every inch of movement, the rope tightens. With his head on the floor, I kick apart his feet. "Wider!" I slap his balls with My spanker, even a light slap on his stretched skin makes him wince. Another two harder blows, he cries out this time. I spank his bottom for this.
I sit on My throne in front of him. Pathetic. More training required for this sub. "Now, kiss My feet." I watch his struggle to get upright enough to reach My feet. I tell him to "Suck My toes." and force his head down onto them, My toes in his mouth. Struggling to balance in this position, he whimpers as he obeys My orders. I kick his face to shut him up, and rest My feet on his back and watch him trying to impress Me. he doesn't. he is such a stupid, pathetic little shit. I already know he will need more training, more discipline, more punishment.